Street Parties
Rio de Janeiro Street Carnival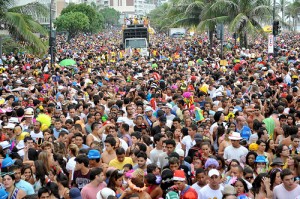 Well over 500,000 visitors are expected to flock to Rio Carnival and that's before including roughly ten million Cariocas who call Rio their home. There are only 90,000 seats in the Sambadrome, so beyond highlighting the importance of booking your Sambadrome Parade tickets well in advance, this statistic shows that by no means do the Rio Carnival celebrations take place exclusively in the Sambadrome.
Not getting into the Sambadrome does not stop the rest of the city from partying at Rio Carnival. The action in the streets outside the Sambadrome on Rio Carnival Samba Parade nights is insanely wild and crazy. The streets shut down and cars are replaced with people as the Carnival in the streets provide some of the most electrifying atmospheres of the Rio Carnival experience. Last year, around 5 million revelers joined in on the street parades — with over 2 million people at one street party alone (at Cordão da Bola Preta)!
If you are looking to feel the authentic Carioca soul of Carnival in Rio de Janeiro, you're likely to find it in the streets. Rio Carnival Samba Street Parades are held starting in the days leading up to the main Carnival events in the Sambadrome. Rio Carnival in the street is where the debaucherous Carnival parties you've heard of take place.
Street Parades: A Free Party for Everyone!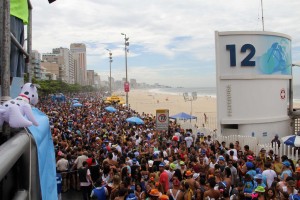 Street Parades are completely free of charge and are events you don't want to miss. Not that you could miss it if you tried, but if you're in Rio during Carnival and don't go to a street party, you've really missed out on something big. Though they are forced to work with significantly smaller budgets than the Samba Schools parading through the Sambadrome, the blocos that perform in the Rio Carnival Street Parades put on quite a show. The costumes, floats, songs, and dances are all of the highest caliber, and the streets are packed with engaged and intoxicated party-goers who cheer on the bands.
These parties do not require invitation — if you stumble upon one, by all means, join in! Much of the activity takes place in the streets outside local bars and cafes, where people mingle, sing, drink, and dance the night away — and into the following day! The focal point of Rio Carnival in the Street is centered on fun, happiness, and spontaneity, so let loose and have the time of your life!
Rio de Janeiro street bands typically consist of brass instruments (a key difference from samba schools) in their orchestra and often invite people who show up to join in! At these parties you can expect to find members of the various Samba Schools, still dressed in costume, who want to keep the party going after their moment of glory parading through the Sambadrome.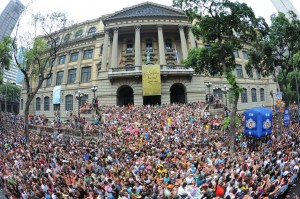 The Biggest Street Party
Street parties take place all around the city of Rio. While the biggest street party takes place right outside the Sambadrome, the largest organized street dance is typically found on Cinelândia Square in Rio's Centro. This outdoor affair goes on for five days straight, and party-goers dance to the beat of esteemed orchestras (or bands) and popular singers who play samba music and well-known Carnival hits (called marchinhas) on a stage set up in the square. If you don't know how to Samba and want to learn, it's easy to find a Carioca partner who will teach you — but you'll quickly find that the formal samba is by no means a mandatory skill.
The Formation of a Bloco
Basically, in Rio de Janeiro, friends will meet up to play the samba, dance and mingle. When these informal groups of friends grows in popularity, they often turn into blocos. Thus, blocos originate from a specific neighborhood, and can be formally organized street bands or other types of groups that parade down the street playing music, setting the mood and adding to the excitement and revelry through traditional rhythm and song.
Street Parade Routes
Rio street bands parade down a predetermined marching route, where the orchestra is followed by lively and hyped-up samba dancers. Blocos draw huge crowds of people, some of whom come dressed in costume, others

of whom wear specially made T-Shirts; some come dressed in drag, others wear bathing suits or just regular clothing — but everyone who shows up is in an indescribable state of euphoria, singing and dancing to the samba beat.
Finding a Rio Carnival Street Party
It's worth it to ask around to find out where the best party is located, with an estimated 300 bands taking place at any given time. Sometimes overcrowding is considered an issue, so the location, route, or schedule of a block or Street Party can change without notice — so be aware that even the local newspapers can print outdated information! Despite the drinking and crowds, blocos and Street Parties are very safe events. With over 5 million people attending blocos in 2016, there was not one reported incident of crime.
Changes to the schedule are not made for safety reasons, but rather, some blocos prefer to have smaller crowds of loyal and enthusiastic fans and friends who know their songs by heart. If you happen upon one of these smaller blocos, don't let this information stop you from joining in on the fun: Cariocas (Rio natives) are notorious for being a friendly and welcoming people!
The best way to find out where the best street party is on any given day is to ask a Carioca on the street or beach. If you're shy, you can always consult a newspaper or magazine. Check out the entertainment section of the weekly Veja Rio or the Jornal do Brasil, but remember that weekly publications may be outdated the morning of the street party. Make sure it is up to date: you don't want to read about a street party only to go where the newspaper tells you to go to find the party has moved to another location. So you might be better off looking into the "festas" section of the O Globo newspaper, and then cross-checking the information you find with a carioca or concierge.
Popular Rio Carnival Street Parades
For next Rio Carnival, the largest variety of bandas will perform from Saturday to Tuesday on Avenida Rio Branco in the Centro, but here's a list of some popular blocos you might want to check out:
Banda de Ipanema
Location: Parading from Rua Gomes Carneiro over to Praça General Osório.
One of Rio Carnival's oldest continuously performing bloco, Banda da Ipanema parades along the beach at sunset, offering soberingly stunning views to those who allow themselves to enjoy them. Flamboyantly fabulous drag queens flock to Banda de Ipanema Bloco in large numbers, so this is a great opportunity to let yourself loose and go crazier than usual with your costume and dress.
Bangalafumenga
Location: The block usually parades near the Botanical Gardens or Parque do Flamengo down Avenida Infante Dom Henrique
Referred to commonly as "Banga", Bangalafumenga started out as a bloco that grew in popularity, prompting the core members to form a band that now plays year round at venues across Rio de Janeiro. Needless to say, this bloco is hugely successful and wildly popular. You can expect to hear traditional Carnival marchinhas, in addition to some funk, pop, and rock sprinkled in.
Carmelitas
Location: Rua Almirante Alexandrino, winding through the streets of Santa Teresa.
Inspired by a local legend telling the story of a Carmelite nun who jumped over the walls of her convent in Santa Teresa to join in on the Rio Carnival mayhem. In honor of the nun, most Cariocas come to this bloco wearing a colorful veil.
Cordão do Boitatá
Location: Rua do Mercado to Rua do Ouvidor, ending with a street party at Praça XV.
Drawing heavily from Brazilian folk traditions as the blocos inspiration, the Cordão do Boitatá Carnival parade in Rio de Janeiro is a peaceful, fun event for adults and children alike. It's a great bloco for families. The bloco parades through the Centro Histórico area, and all attendees are encouraged to come in costume. The bloco gets its name from the boitatá, a mythological Brazilian fire snake.
Cordão do Bola Preta
Location: Largo da Candelária in the Centro, parading down Avenida Rio Branco to Cinelândia.
Reportedly Rio de Janeiro's largest and oldest bloco, forming over 95 years ago, Cordão da Bola Preta is popular with all demographic groups. In 2011, this bloco brought around 2.3 million people to the streets of the city center. Traditionally, Cordão do Bola Preta parades on the Saturday of Carnival.
To fit in, you'll want to wear an outfit with the signature black polka dots on white, the bloco's official uniform.
Escravos da Mauá
Location: Starting at Largo de Santa Rita, parading through the Centro, and finishing at Rua do Acre
Escravos da Mauá parades on the Sunday before Rio Carnival through the historical Saúde district, Praça Mauá and Morro da Conceição — the recognized birthplace of Rio Carnival in the street. Founded in 1993 by a group of officials at the National Institute of Technology, Escravos da Mauá s part of Sebastiana, an association of blocos in Rio de Janeiro's Southern Zone.
Que Merda é Essa?!
Location: Rua Garcia D'ávila and Rua Nascimento Silva, parading along Vieira Souto to the border of Ipanema and Leblon.
As the legend goes, a group of drunken Carnival-goers got disoriented and started walking in the opposite direction of the parade. A few sober onlookers shouted, "What the s**t is this? The parade's going "that" way!" That's the story of how this popular Rio bloco got it's start in 1995. Since then the bloco took off and hasn't looked back. Every year, Que Merda é Essa?! throws one of the best street parties of the Rio Carnival season.
Monobloco
Location: Avenida Rio Branco and Avenida Presidente Vargas, ending at Cinelândia.
The Monobloco bloco became so popular that it was recently moved from its previous location to the Centro in order to accommodate all the people who wanted to join. The legendary percussionist Pedro Luís e a Parede, who is also a professional artist all year long, leads the music. In addition to playing the tradition sounds of the samba, the Monobloco attracts a young crowd as it plays other types of music, including coco, ciranda, marcia, xote, samba-rock and funk. Each year Monobloco continues to gain popularity, making it one of the best blocos of Rio Carnival.
Simpatia é Quase Amor
Location: Praça General Osório, parading down the Ipanema shoreline to Leblon.
Simpatia é Quase Amor attracts a young and flirtatious crowd, making it a great place to meet people. It's colors are yellow and purple, inspired by an old "Engov" remedy to prevent hangovers.
Suvaco do Cristo
Location: Rua Jardim Botânico, parading from through the Jardim Botânico (Botanical Garden)
A member of Sebastiana, the Association of Street Carnival Blocos, Suvaco do Cristo literally means "Christ's Armpit", a named derived from the fact that its headquarters are located in a straight line underneath Jesus' armpit in the Christ the Redeemer statue. Suvaco do Cristo is a relatively low-key bloco that has been gaining popularity in recent years, attracting a lively mix of chic Cariocas and local bohemains who wind their way up towards Gavea and finish the party in the square outside the Jockey Club. The atmosphere is pleasant, and the parade take you through the botanical gardens of Rio de Janeiro: a great opportunity to kill two birds with one stone.
Céu na Terra
Location: Rua Dias de Barros, in front of Serginho Bar, through Santa Teresa
Head up to the hills of picturesque Santa Teresa for the bloco Céu na Terra, literally meaning heaven on earth. This bloco attract a large but extremely friendly crowd of Cariocas who their way through the beautiful cobblestone streets of the Santa Teresa neighborhood.  Previously limitted by the trams that go through Santa Teresa, the city recently decided to stop the trams during Rio Carnival, providing extra room for Carnival street fun! Céu na Terra puts on a traditional carnival parade, going so far as to performing a composition that is told through giant puppets, stilts, and costumes.
Also available in: Portuguese (Brazil)