The Sambadrome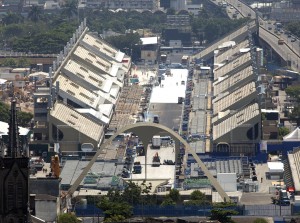 The Sambadrome, or "Sambódromo", was designed by world-renowned Brazilian architect Oscar Neimeyer and constructed in 1984 with the specific purpose of showcasing the competitions between Rio de Janeiro's elite Samba Schools. The Sambadrome, meaning "Stadium of Samba", is the official venue of Rio Carnival and will play host to some events of the 2016 Summer Olympic Games and the 2016 Summer Paralympics Games.
Though it hosts events throughout the year, during Rio Carnival the Sambadrome comes alive! Located at the recognized birthplace of samba, the Sambadrome parading avenue starts at Avenida Presidente Vargas, near Praça Quinze and ends at the Apotheosis Square on Rua Frei Caneca.
Having planned and executed designs and themes all year long, the most prestigious of Rio's more than 200 Samba Schools compete in Sambadrome Parades down the 700 meter (roughly half-mile) stretch of the venue's parading runway. In the period leading up to Rio Carnival, the Samba runway is painted white for the grand celebration and competition.
The Sambadrome was specially designed such in a way to maximize your visibility from all the seats in the house. Spectators parade runway and sit on both side of the venue that are equally and symmetrically designed structures called sectors. In each sector of the Sambadrome there are various types of seats available. Read our Sambadrome Seating Guide for a more detailed description of your ticket options.
Many tickets are located in the Sambadrome's Grandstands, which are non-numbered open bleachers, Then there is a tourist section as well, in which the seats are the same as in the regular grandstand seats but are individually numbered so these tickets are reserved. Then there are Camarotes, or luxury VIP boxes/suites. These are located right below the grandstand bleachers; and there are front boxes (frisas) lining the front of the parading runway. There's truly not a bad seat in the entire stadium! Next year's Sambadrome Parade Tickets are already on sale now on RioCarnival.net!
Also available in: Portuguese (Brazil)